If you frequent men's restrooms, you've probably noticed that urinals often feature a brightly colored, hockey-puck-like object encased in a screen placed over the drain. What is it? What purpose does it serve?
This guide will give you insight into the mystery of the urinal cake and offer product solutions for your business available at Elevate Marketplace. 
What is a urinal cake?
Urinal cakes, or urinal deodorizer blocks, aren't just random restroom decor. These contraptions provide odor-blocking and disinfecting power to keep your corporate restroom fresh and clean. Despite what the name implies, these cakes are not edible and best left alone so they can continue to do their business while you take care of yours. 
History of the urinal cake
While the true inventor of the first urinal cake is unknown, the first patented version of the product was produced by George A. Sleight in 1922, though previous versions existed. 
One particularly interesting urban legend pins Benjamin Franklin as the originator of the urinal cake. One evening while hosting several iconic figures from U.S. history, he baked an assortment of cakes or cookies and placed them in the outhouse for his colleagues to enjoy. John Hancock allegedly dropped the desserts down the hole, and Mr. Franklin noticed that it helped to mask the unpleasant odor. While this tale is most likely false, it's worth sharing.
The original versions of the products used mothballs to combat unfortunate restroom odors, but this proved to be toxic to humans. Manufacturers went on to use para-dichlorobenzene, which is also a known carcinogen and is prohibited in some areas. Elevate Marketplace offers non-para urinal cakes as a safe alternative. 
How do urinal cakes work? 
Restrooms and unpleasant odors go hand-in-hand. Whether you run a small business, own a restaurant or bar, oversee a large corporation, or manage a service station, a lot of people will be visiting your restrooms. Customers tend to associate cleanliness with the quality of services that an establishment provides. In addition, employee morale is greatly influenced by corporate image. This means it's extremely important that you maintain clean facilities.
Urine does not typically have a strong odor, but according to UnityPoint Health, consuming certain foods like asparagus, onions, fish and garlic can make it take on an odd smell. Certain medications, vitamins and medical conditions can also cause this effect. Further, the amount of ammonia in urine can also contribute to unpleasant odors. While urine always contains a level of ammonia, if someone is more dehydrated, the chemical will be more concentrated, and the smell will be significantly stronger. 
This is where urinal cakes come into play. If left unattended, bacteria can begin to eat away at urine's other chemical components, like urea and uric acid, leading to an even higher concentration of ammonia and stinky urinals. 
Urinal cakes use strong smelling molecules to combat the unfortunate odors that accompany public restrooms. These water-soluble blocks deodorize and clean the urinals by interfering with the bacteria that cause the heavier ammonia concentration.
Urinal cakes are disposable and should be replaced every 30 days.
What is a urinal screen? 
Urinal screens serve as either a urinal cake alternative or accomplice. These vinyl screens can be used in any type of urinal and help to eliminate odors while preventing clogging. Some urinal cakes come encased in urinal screens, but the screens can also be purchased as a standalone defense. 
Like urinal cakes, urinal screens temporarily deodorize and clean the urinal and should be replaced every 30 days. Routine replacement is necessary for effectiveness.
Urinal cakes wholesale at Elevate Marketplace
Elevate Marketplace offers a wide variety of restroom cleaners and accessories, including toilet and urinal deodorizers, to keep your business' facilities functional and fresh. 
We have the following urinal cakes and urinal screens available for purchase:
Product Highlights
Water soluble block

Cleans and deodorizes

Splash resistant

Non-staining; will not change color of water

Designed for use in dry urinals -- not for standing water urinals

Sold by the dozen

Scent: Cherry
Product Highlights
Flexible screen traps debris, protecting the urinal from unnecessary damage. 

Attached enzyme block cleans and deodorizes as you flush. 

Screen and block combo fights uric acid odors. 

Lasts up to 30 days. 

Sold by the dozen

Scent: Evergreen
Product Highlights 
Air soluble urinal screen with a block

Unaffected by water

Evaporates to permeate unpleasant smells with a fresh scent

Long-lasting freshness lasts for 75-90 days

Non-para formula meets industry standards

Scent: Camphor
Product Highlights
Dissolves as it cleans the bowl and blues the water. 

Cleaning block deodorants are water activated, counteract odors, and fight bacteria growth. 

Contain no parachlorides. 

Lasts for 1500 flushes.

Scent: Unscented
Product Highlights
Vinyl screen can be used in any type of urinal

Odor control lasts up to 30 days

Flexible to fit all urinals

Non-toxic

Sold by the dozen

Scent: Mint
Product Highlights
Freshens and cleans the urinal for up to 1,500 flushes.

Deodorizes, cleans and prevents scale buildup.

Enzymes continuously eliminate odors and maintain drain lines.

Flexible screen traps debris. 
Product Highlights
Freshens and cleans the urinal for up to 1,000 flushes. 

Block comes wrapped in water soluble film, no need to unwrap. 

Each flush contains powerful surfactants and chelating agents to eliminate odors at their source. 

You know it's working when you see the water turn blue.

Scent: Cherry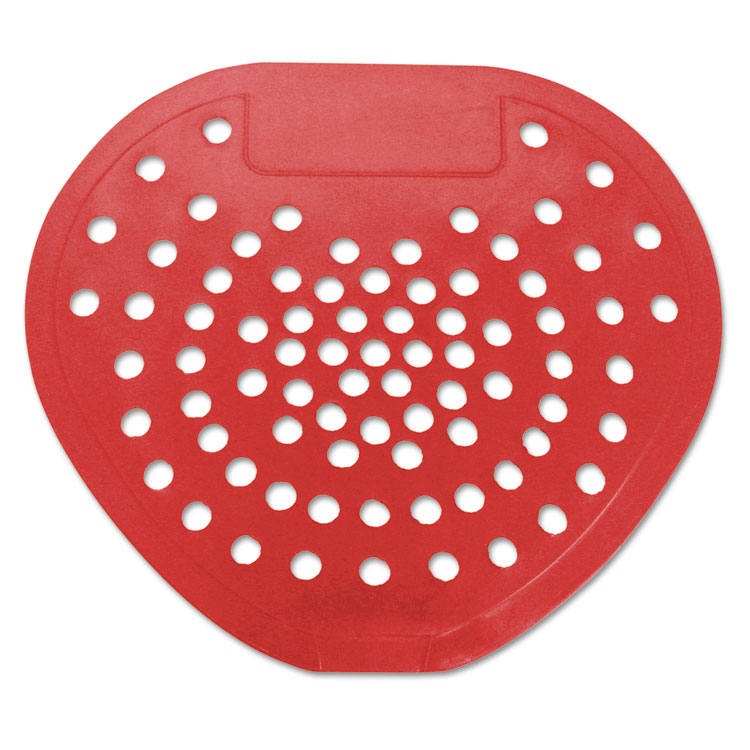 Product Highlights
Vinyl screen can be used in any type of urinal.

Odor control lasts up to 30 days.

Flexible to fit all urinals.

Non-toxic.

Sold by the dozen
Conclusion
Urinal cakes are small products that pack a big cleaning punch. Don't let your business' restroom become plagued with unpleasant odors. Purchase urinal cakes and other bathroom cleaning products at discount prices from Elevate Marketplace today!